Meanwhile, this figure in the latest version of Vaporfly, Vaporfly NEXT% is 5% and this is also the Eliud Kipchoge athlete shoes used to be the first in the world to run a marathon under 2 hours at Ineos 1 : 59 Challenge.
Vaporfly NEXT% helps Eliud Kipchoge run marathons under 2 hours at Ineos 1:59 Challenge
However, recently, a group of 20 runners with "locomotive", former Italian Marathon champion Gianni Demadonna, wrote to the International Athletics Federation (IAAF), complaining about the technology of the shoes. Nike, especially the Vaporfly line, creates an unfair advantage among athletes under Article 143 of the IAAF competition rules.
Most of the controversy is about the Vaporfly's middle sole with carbon fiber discs. The team of athletes said that the spring-like design of this disc is a "doping technique" and makes the game unfair.
The IAAF then had to acknowledge the existence of the problem and issue a statement to establish a special working group for clarification. According to the plan, the final answer will be given by the agency on October 28.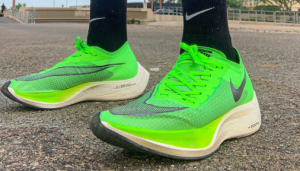 In a recent interview in the Washington Post, the veteran and extremely famous coach of the world classics, Mr. Steve Magness said, most research shows that the foam foam layer increases the efficiency. The ability to run is greater than what carbon fiber discs can do. This is partly due to the absence of a general standard of operation, the functioning of the disc in a shoe.
In a recent analysis in the British Journal of Sports Medicine, scientists Geoffrey T Burns and Nicholas Tam made a number of recommendations for laws regarding the adjustment of the thickness of the middle sole of a running shoe.
Nike itself has also voiced before the heart of the storm, but still leaves the answer to the question "Is foam the main factor that gives the runner an advantage?". Moreover, Nike is not the only company producing shoes with carbon fiber padding.
Therefore, it is not simple for athletes to "accuse" Nike in this case, even Nike may be innocent in this controversy.